It's light in texture, but bold in flavor. It goes good with most fruits or can be eaten by itself. The inside looks as if it's been dipped in butter and the outside crust has a slight crunch to it. It's a great cake for Summer parties or office meetings. It can easily be dressed up with the simplest decorations or it can stand alone as a classic. I'm talking about a golden delicious sour cream pound cake.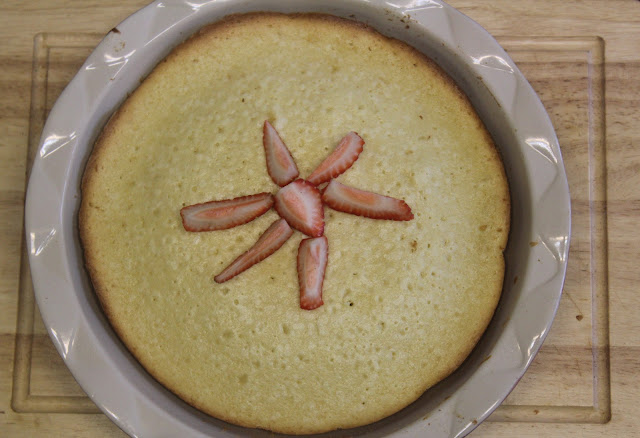 This pound cake be baked in a 9 x 5 inch loaf pan, but I chose to use a 9 inch pie plate to bake the cake in.The recipe that I used is fairly easy, especially if you prep before you start baking. Let's get started with the ingredients that you will need.
Ingredients:
1/2 cup unsalted butter (room temperature)
3 eggs (room temperature)
1/2 cup sour cream (room temperature)
1 1/2 cups all-purpose flour
1/4 teaspoon baking powder
1/8 teaspoon (half of 1/4 teaspoon) baking soda
1 cup sugar
1/2 teaspoon vanilla
If you want a sweeter and richer tasting cake you can increase the amount of sugar.
Recipe:
Preheat oven to 325 degrees
1) In a bowl stir together flour, baking powder, and baking soda
2) In a large bowl beat butter and gradually mix in the sugar. Add vanilla
3) Add eggs one at a time mixing each into the batter well
4) Alternate between adding the sour cream and the flour mixture (step 1). Mix well after each addition is added.
5) Pour batter into a 9 x 5 inch loaf pan or a 9 inch pie plate that is sprayed with baking spray.
6)Bake for 60-75 minutes or until a toothpick inserted in the middle comes out clean.
Wait until cake cools to remove it from the pan. Adding berries to the top of your cake is optional.
What is your favorite topping for pound cake?
I can be contacted at savorthebaking@hotmail.com.
Have a great weekend everyone.
Savor the Baking,
Chineka